For the IT industry, the Gartner Hype Curve provides a graphical representation of the maturity and adoption of various technologies and applications. The analysis accompanying Gartner Hype Cycles also gives an indication of how potentially relevant these solutions are to resolving real life business problems, and the opportunities that they can provide to businesses, for expanding or improving their operations, and gaining a competitive edge.
As with all kinds of analysis however, it's important for anyone reading and interpreting the data to appreciate the underlying principles guiding the research, and to understand the full implications of all the observations that the analysis brings to light.
Gartner Hype Cycle Methodology
According to Gartner, Inc., the methodology that the research firm uses in preparing their Gartner Hype Cycle, "gives you a view of how a technology or application will evolve over time, providing a sound source of insight to manage its deployment within the context of your specific business goals."
Each Hype Cycle looks in depth at five key phases in the life cycle of a particular technology or application:
Innovation Trigger: This is a breakthrough or discovery that gains public attention and media coverage. Often at this ideas stage, no usable products or viable business models are available. Much of the hype comes from proof of concept (PoC) evidence, and the potential implications of the new technology.
Peak of Inflated Expectations: As a result of all the early publicity, a number of success stories often appear at this point — but tales of failure may be just as common. Some companies will take action on the basis of these early successes, but many will not.
Trough of Disillusionment: During this phase of the cycle, interest in the new technology declines and cynicism begins to set in, as experiments and implementations fail to deliver the promised results. However, if surviving providers of the new technology manage to improve their products and services to the satisfaction of early adopters, investment in the development may continue.
Slope of Enlightenment: As time goes on, second and third-generation products or services appear from the technology providers. More instances of how the new technology can benefit the enterprise begin to emerge, and observers now have a better understanding of how it works. As a result, more enterprises begin to invest and fund pilot schemes. However, more conservative elements still remain on the fence.
Plateau of Productivity: At the final stage of Hype Cycle maturity, mainstream adoption of the new technology starts to take off. For businesses looking to invest or implement development projects of their own, there's a clearer understanding of the criteria for assessing provider viability.
A typical Gartner Hype Curve might look like this: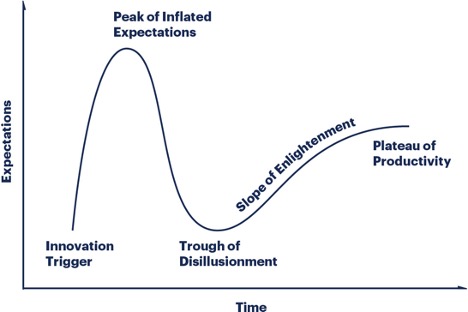 What The Current Gartner Hype Curve Suggests
The current Gartner Hype Curve considers five technology trends which are "revolutionising how customers experience digital", and should provide food for thought for businesses making their strategic plans for 2020 and beyond.
1. Multiexperience
Observers in retail and other industries whose consumers take a multi-platform approach to interacting with brands will already be familiar with what Gartner calls "multiexperience." It's a blanket term for the various devices and apps that people use on their many digital journeys. This typically involves a combination of interaction modes and touch points, ranging from web and mobile apps, through natural-language-based chat and voice interfaces, to gestures used in 3D or virtual environments.
For businesses wishing to keep pace with this trend, their in-house development teams or external contractors should master mobile app design, development, and architecture. These teams should create mobile apps with modalities based on specific touch points, while engineering a consistent and unified user experience (UX) across web, mobile, wearable devices, conversational interfaces, and immersive experiences.
2. Machines Without Interfaces
So-called "interfaceless" machines are becoming more widespread, as manufacturers in various sectors are phasing out on-board instrument panels in favour of apps that run on their handler's mobile devices. Device control is being enhanced by the large, high-resolution screens now common on mobile devices. Meanwhile, control software design is easier with the availability of configurable APIs (application programming interfaces).
3. Agent Interfaces
As interface design evolves across a range of industries, interfaces incorporating Artificial Intelligence (AI) are enabling developers to predict what users intend to do, on the basis of information gleaned from past interactions.
Conversational UIs (or chatbots) are an example of these intelligent agent interfaces, which have the potential to greatly influence how enterprises interact with their consumers, offer services, and provide tools to their employees.
4. Facial Recognition Payment Systems
Pioneered and gaining popularity in China, facial recognition payment systems use QR codes and the scanning / recognition capabilities of mobile device cameras and sensors to bypass traditional cash and card-based mechanisms.
Though the technology requires a high degree of confidence and trust in the payment service provider, these systems are gaining adoption outside of China. Apple's Face ID with Apple Pay is one example.
5. Inclusive Design
As diversity becomes a key issue both in and outside the work place, designers must give consideration to all potential users of their products and services. By taking into account the special needs of all possible communities, inclusive design can serve the broadest possible population of users. To ensure this, the data sources used in design efforts must reflect all potential user segments, and avoid data sets that are too narrow or non inclusive.
Should We Take This At Face Value?
Gartner Inc., places the emphasis on Chief Information Officers (CIOs), as the business leaders who most need to understand how digital experiences are developed and delivered. The research firm's clients use the Gartner Hype Curve and its implications as the basis for understanding the promise of an emerging technology within the context of their particular industry, and each individual enterprise's appetite for risk.
Early adopters need to weigh the balance of a potentially risky investment in largely untested technology against the success that could emerge from getting ahead of the rest of the market.
Executives with a more modest approach to risk-taking will generally insist on a sound cost / benefit analysis of new technologies or methods, before making any financial commitments.
In the case of technologies and services with too many unanswered questions concerning their commercial viability, it might be better to adopt a more conservative stance, and wait until others in your sector have been able to deliver tangible value.
Industry analyst Elaine Burke proposes an additional phase to the Gartner Hype Cycle after the plateau of productivity, to reflect the practical reality of when everyday technology becomes a source of everyday frustration.
Burke argues that The Morass of Malfunction should be included, to take account of the stage in a technology's maturity when a disconnect occurs between user expectations and the technology provider's development plan. A typical example would be the experience of waiting for a website to load new elements while you are scrolling, and just as you click or tap on the thing you were looking for, the whole layout jumps, and you're instantly transported to somewhere you didn't want to go.
By including some concession to the usability issues of a technology after it gains widespread acceptance, the Gartner Hype Curve could give a more complete picture of its life cycle.