Last year, Gartner axed 14 cloud vendors from its Magic Quadrant for Cloud IaaS, choosing to focus only on global vendors currently offering, or developing, hyperscale integrated IaaS and PaaS offerings. This bit of spring cleaning left behind a more manageable roster of six companies classified into two distinct segments: the Leaders, comprising Amazon Web Services, Microsoft, and Google, and the Niche Players, represented by Alibaba, Oracle, and IBM.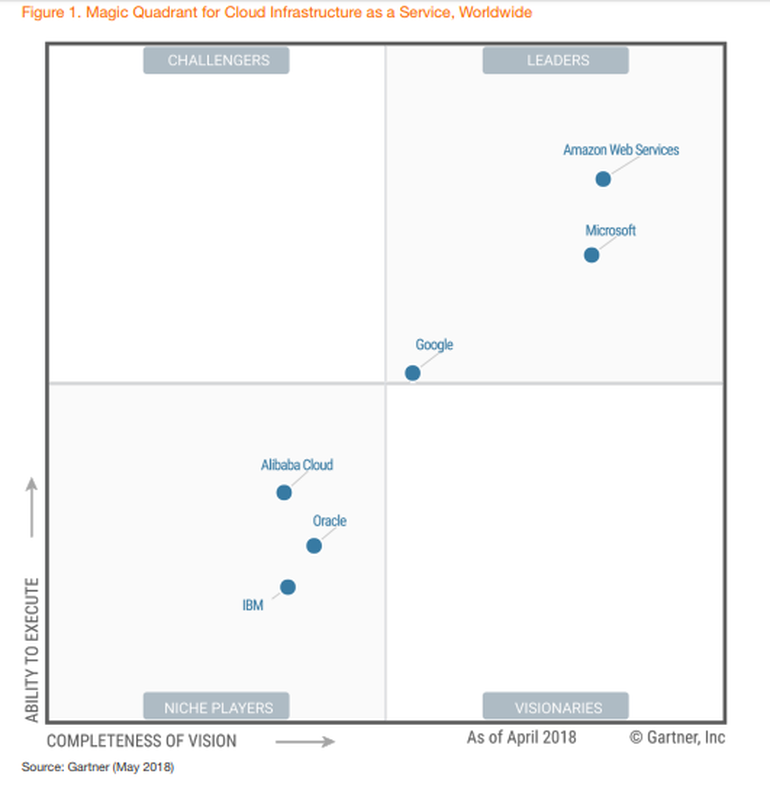 Even within this simplified league table of three, Amazon continues to be the clear leader in terms of revenue and market share.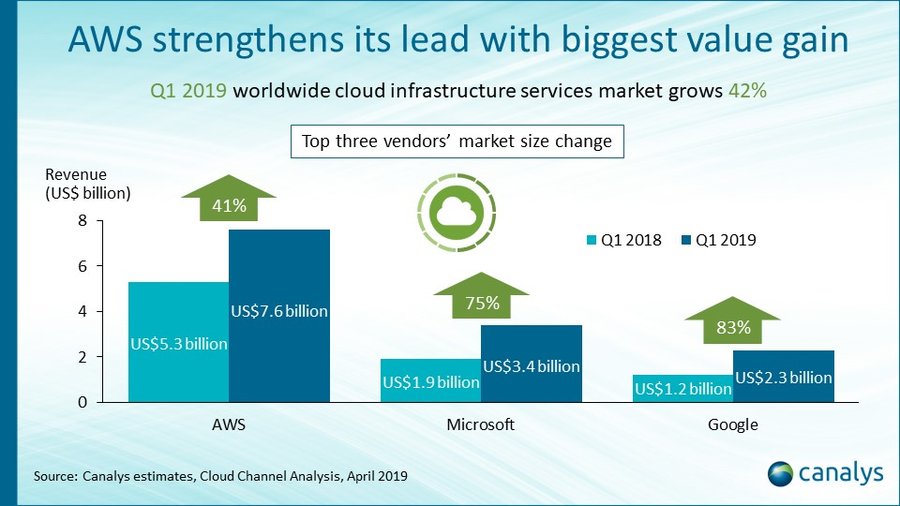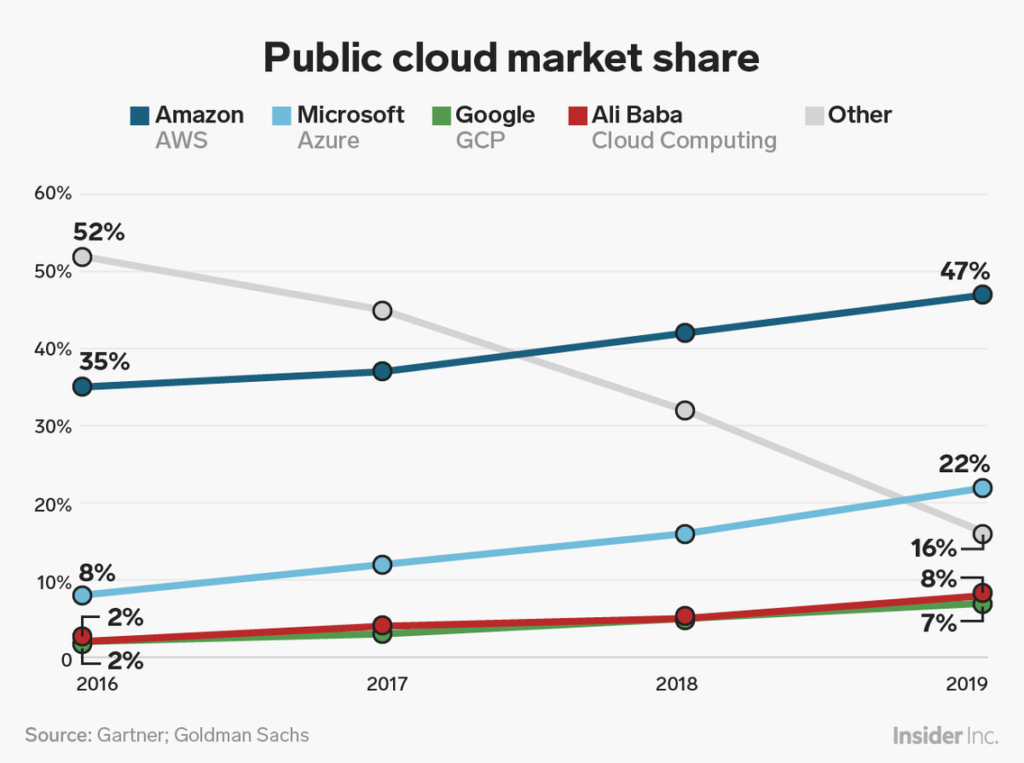 Now AWS may dominate the cloud market, but Microsoft and Google are growing much faster.
According to Q1 2019 figures, these challengers are growing, respectively, at 75 and 83 percent against a comparatively middling 41 percent growth for AWS.
AWS market share has also remained stagnant at 33 percent between Q1 2018 and 2019.
Additionally, a Gartner scorecard that evaluates public IaaS cloud providers across 263 required, preferred and optional criteria found that Azure has pulled away from AWS in the required criteria for the first time since the scoring started.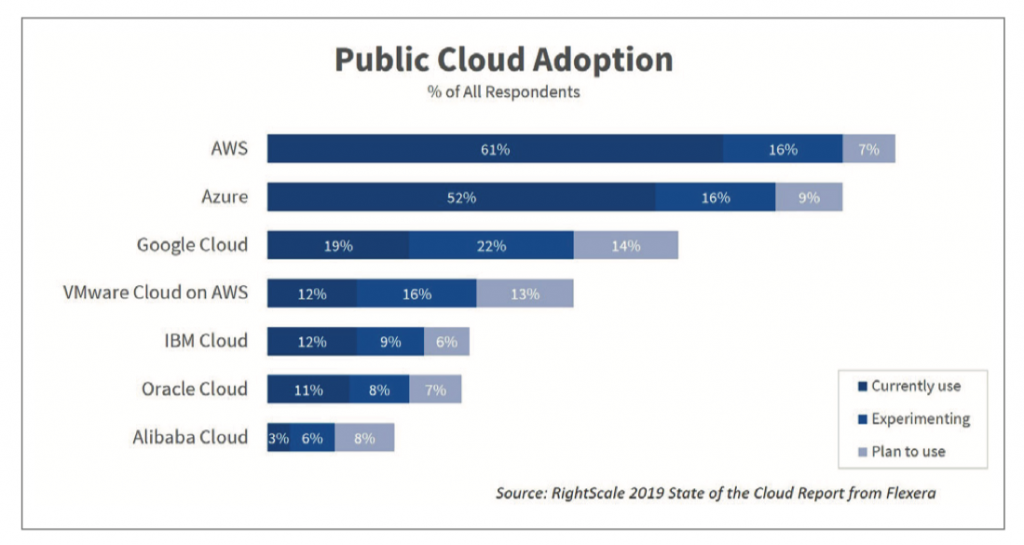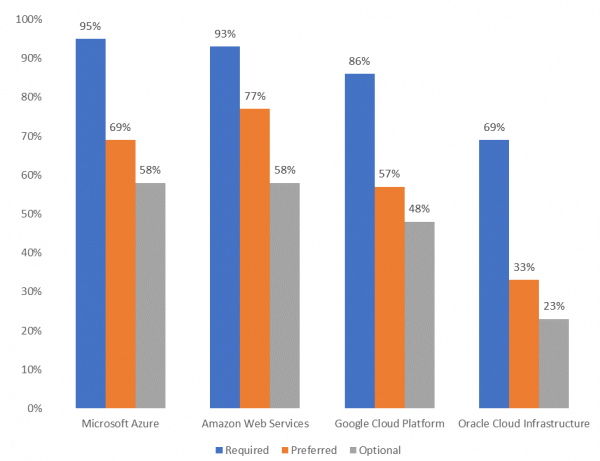 Going multicloud and hybrid
But even as the cloud IaaS market coalesces into a "Big Three vs Others" comparison, RightScale's 2019 State of the Cloud survey revealed that businesses are combining public and private clouds in a hybrid multi-cloud strategy that leverages almost 5 clouds on average.
Another study from Kentik found that the most common cloud combination was AWS and Azure, with the AWS-Google Cloud combination trailing not far behind.
Though public cloud remains the top priority across enterprises, the number of companies deploying a hybrid public plus private cloud strategy is increasing.
At the same time, companies with a multicloud strategy, combining multiple public OR private clouds, has decreased.
All this would suggest that the cloud market is not a zero-sum play. Businesses are using a combination of cloud providers, including the niche players, to design solutions that deliver the best outcomes. And cloud providers will have to take this preference for hybrid clouds into consideration while developing solutions for their customers.
More importantly, none of this makes it any easier for customers to narrow down the right vendors for their workloads given the absence of any common framework for assessment. But it is possible to define a template defining some key considerations that should drive the choice of cloud providers.
Choosing a cloud service provider
There are several factors that can influence a company's choice of cloud provider including the platform's choice of technology and architecture, data security, compliance and governance policies, interoperability, portability and migration support, services development roadmap, etc.
The Cloud Industry Forum, a UK-based not-for-profit organization promoting cloud adoption, has a fairly comprehensive list of 8 criteria for selecting the right cloud service provider. At Vinnter we believe that there are 4 important aspects to picking a cloud provider:
Location proximity: There are two reasons to ensure cloud service providers have actual operations in the customer's target market. The first is latency, which some have even referred to as the Achilles heel of cloud adoption.
One study on the global network performance of AWS, Google Cloud and Microsoft Azure found that data center location directly affected network latency with network performance varying across different service providers while connecting across different regions.
This lag can have huge performance implications for many modern business and IoT applications that depend on and expect low latency.
The second critical factor is that of data sovereignty. Many countries, including Russia, China, Germany, France, Indonesia and Vietnam, have data residency regulations that require data to be stored in the region. GDPR sovereignty requirements have strict mandates on the collection and processing of EU residents' data.
Cloud providers are responding to these mandates of latency and sovereignty by opening up multiple regional data centers. For instance, AWS announced plans to open an infrastructure region in Italy, the company's sixth in Europe, that would address both low latency and data residency requirements.
In Germany, Microsoft has placed the customer data in its data centers with an independent German data trustee, making it difficult for anyone, including Microsoft or US authorities, to access it without the customer's permission.
Transparent pricing: Optimizing cloud costs continues to be a top priority, even among advanced cloud users, with one study estimating wastage at about 35 percent of cloud spends.
The study also identified four reasons for this wastage: complexity of cloud pricing, a better-safe-than-sorry approach leading to overprovisioning, lack of visibility into cost implications, and lack of adequate tools for optimizing spends.
As cloud providers launch new innovations and pricing models the pricing is only expected to get more complicated with no basis for comparison across services.
In fact, 2018 was predicted to be the year when cloud providers would consolidate and simplify their offerings and pricing structures.
A transparent pricing model can address almost all the waste factors mentioned earlier. It provides customers with a common and objective basis for comparing and choosing the service that best suits their workloads as well as optimize provisioning to actual demand.
Accessible documentation and support: Documentation and customer support are critical factors, often the difference between productivity and wastage, in an evolving area such as cloud computing. Extensive and accessible documentation can make it easier for customers to implement and manage their cloud services more optimally. This has to be backed by 24/7 customer service and dedicated account managers to help customers resolve their cloud service problems and queries.
Both Google Cloud and AWS provide access to comprehensive documentation as well as community forums where customers can address implementation or performance related issues. All top three vendors offer a lower level of support by default but expect customers to pay for anything more. For instance, Google and AWS offer different levels of support at different price points.
Going forward, the documentation and support offered by a cloud service provider could become a key point of differentiation in customers' choice of cloud platform.
Finding the right cloud skills: As more and more businesses move their workloads to the cloud, there is a growing demand for people with the skills to develop, operate and maintain end-services deployed in a cloud environment. This will be a critical factor irrespective of choice of cloud service provider.
But acquiring the right cloud skills has reportedly become a full-blown crisis with a significant majority of IT managers finding it "somewhat difficult" to find cloud management talent.
In order to deal with this crisis, Deloitte advises businesses to start with an inventory of cloud computing skills in the company across different areas such as architecture, security, governance, operations and DevOps as well as cloud brand-specific skills.
The next step is to define the skills related to these same areas that are required to get the company to where it wants to be in terms of cloud technologies. Finally, train, hire and/or replace talent to build a cloud-first approach to technology.
Today, it is simply not possible to create a like-to-like comparison template of all major service providers that would be relevant to every business looking to select a cloud platform. But there are certain broader themes that apply across services that need to be considered to determine the correct fit for every company's technology and workload profile, usage pattern, technical maturity and budget.
Rather more importantly, the cloud is not the plug-and-play environment that it promised to be. Even post-adoption every business will need in-house cloud skills to accelerate development and innovation. That perhaps will be the biggest challenge of all.