Since its introduction in 1998, Bluetooth wireless has carved a niche as one of the principal technologies enabling users to connect phones or other portable equipment together. Heralding the next phase in the evolution of this technology is Bluetooth 5.0 or BLE5, the latest version of the platform, and a Low Energy (LE) variant that brings significant advantages over its predecessor, BLE4.
Drawing on updated forecasts from ABI Research and insights from several other analyst firms, the Bluetooth® Market Update 2020 examines the growth and health of the Bluetooth SIG member community, trends and forecasts for each of the key Bluetooth wireless solution areas, and predictions, trends, and opportunities in Bluetooth vertical markets.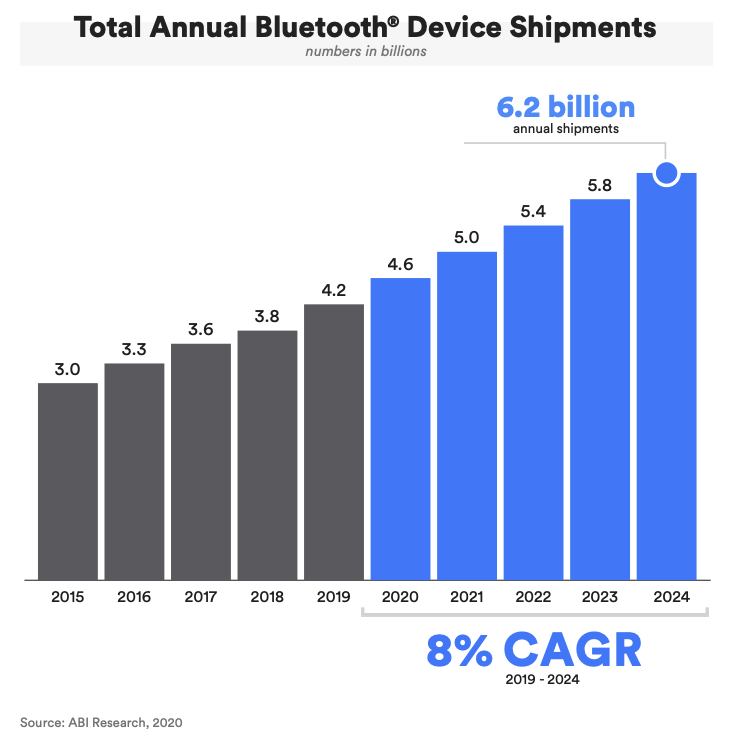 According to this year's report, annual Bluetooth enabled device shipments will exceed six billion by 2024, with Low Energy technologies contributing to much of this activity. In fact, Bluetooth Low Energy (LE) technology is setting the new market standard, with a Compound Annual Growth Rate (CAGR) of 26%.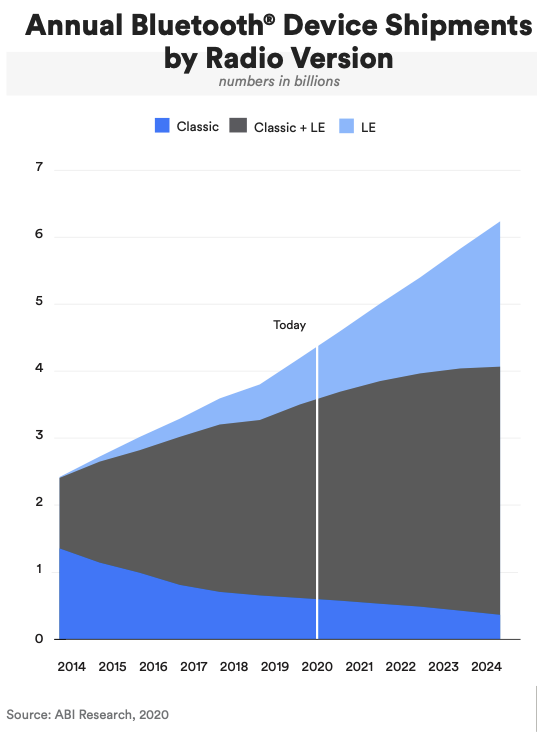 By 2024, 35% of annual Bluetooth shipments will be LE single-mode devices, and with the recent release of LE Audio, forecasts indicate that Bluetooth LE single-mode device shipments are set to triple over the next five years.
Within the Bluetooth LE market, BLE5 is making its mark on the Bluetooth Beacon and Internet of Things (IoT) sectors, creating new opportunities in areas such as Smart Building, Smart Industry, Smart Homes, and Smart Cities using mesh connections.
Some Bluetooth Basics
Before considering how BLE5 compares to what's come previously, we'll give you a basic understanding of the technology involved, and how it has evolved to its current level.
Bluetooth is both a high speed, low powered wireless technology and a specification (IEEE 802.15.1) for the use of low power radio communications that can link phones, computers and other network devices over short distances without wires.
Links are established via low cost transceivers embedded within Bluetooth-compatible devices. The technology typically operates on the frequency band of 2.45GHz, and can support up to 721KBps of data transfer, along with three voice channels. This frequency band has been set aside through international agreement for the use of industrial, scientific, and medical devices.
Standard Bluetooth links can connect up to eight devices simultaneously, with each device offering a unique 48 bit address based on the IEEE 802 standard. Connections may be point to point or from a single point to multiple points.
A Bluetooth Network consists of a Personal Area Network or piconet, which contains a minimum of two to a maximum of eight Bluetooth peer devices — usually in the form of a single "master" and up to seven "slaves."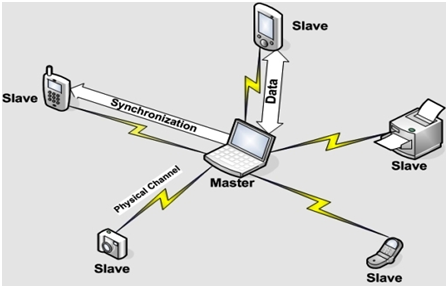 The master device initiates communication with other devices, and governs the communications link and data traffic between itself and the slave devices associated with it. A slave device may only begin its transmissions in a time slot immediately following the one in which it was addressed by the master, or in a time slot explicitly reserved for its use.
How Bluetooth Has Evolved
In 1998, the technology companies Ericsson, IBM, Nokia, and Toshiba formed the Bluetooth Special Interest Group (SIG), which published the first version of the platform in 1999. This first version could achieve a data transfer rate of 1Mbps. Version 2.0+EDR had a data speed of 3Mbps, while version 3.0+HS stepped up its speed of data transfer to 24 Mbps.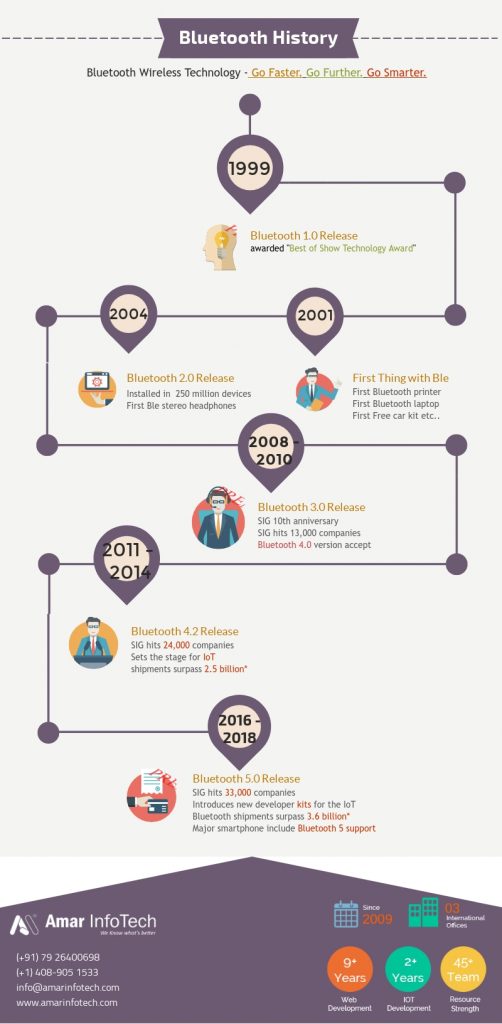 Which brings us to versions 4 and 5.
How BLE5 Compares To BLE4
Versions 1 to 3 of the platform operated via Bluetooth radio, which consumes a large amount of energy in its work. Bluetooth Low Energy technology or BLE was originally created to reduce the power consumption of Bluetooth peripherals. It was introduced for Bluetooth 4.0 and continued to improve through the BLE4 series, whose last version was 4.2.
Design and performance-wise, BLE5 has the edge over BLE4, in a number of different aspects.
1. Speed
BLE5 achieves a data transfer speed of 48MBps. This is twice that of BLE4. Bluetooth 5.0 has a bandwidth of 5Mbps, which is more than two times that of Bluetooth 4.2, whose maximum bandwidth is 2.1 Mbps. This effectively increases the data rate of BLE5 to 2Mbps, which allows it to reach a net data rate of about 1.4Mbps, if you ignore overheads like addressing. While this isn't fast enough to stream video, it does permit audio streaming.
2. Range
The range of BLE5 is up to four times that of Bluetooth 4.2. A BLE4 solution can reach a maximum range of about 50m, so with Bluetooth 5.0 something in the vicinity of 200m is possible — though some researchers suggest that BLE5 can be connected up to 300 metres or 985 feet. These figures are for outdoor connections.
Indoors, Bluetooth 5 actively operates within a radius of 40 metres. Compare this with the 10m indoor radius of BLE4, and it's clear that BLE5 has the advantage when it comes to using wireless headphones some distance away from your phone, for example, or for connecting devices throughout a house, as opposed to within a single room.
3. Broadcast Capability
Bluetooth 5 supports data packets eight times bigger than the previous version, with a message capacity of about 255 bytes (BLE4 has a message capacity about 31 bytes). This gives BLE5 considerably more space for its actual data load, and with more data bits in each packet, the net data throughput is also increased.
Largely because of the increased range, speed, and message capacity of BLE5, Bluetooth 5 Beacon has been growing in popularity.
4. Compatibility
In terms of compatibility, BLE4 works best with devices compatible with version 4 of the series, but will not work with devices that are using Bluetooth 5. BLE5 is backwards compatible with all versions of Bluetooth up to version 4.2 — but with the limitation that not all Bluetooth 5 features may be available on these devices.
5. Power Consumption
While both BLE5 and BLE4 are part of the Bluetooth Low Energy ecosystem, BLE5 has been designed to consume less power than its predecessor. So Bluetooth 5 devices can be left running for longer periods, without putting too much stress on their batteries.
Historically, this has been a particular problem with smart watches and devices with smaller form factors, like IoT sensors. With the redesigned power consumption system in Bluetooth 5, most such devices will increase their battery life
6. Resiliency
BLE5 was developed with the consideration that important processes involving Bluetooth most often occur in an overloaded environment, which negatively affects its operation. Compared to Bluetooth 4.2, BLE5 works much more reliably in overloaded environments.
7. Security
In April 2017, security researchers discovered several exploits in Bluetooth software (collectively called "BlueBorne") affecting various platforms, including Microsoft Windows, Linux, Apple iOS, and Google's Android. Some of these exploits could permit an attacker to connect to devices or systems without authentication, and to effectively hijack a complete device.
BLE5 has addressed much of this vulnerability, with bit-level security, and authentication controls using a 128bit key.
What This Means For Practical Applications Of BLE5
With its low power consumption, inexpensive hardware, and small form factors, BLE5 provides scope for a wide range of applications.
In previous iterations, Bluetooth Low Energy technology was largely used for storage, beacons, and other low-power devices, but came with some serious limitations. For instance, wireless headphones were unable to exchange messages under BLE4.
With Bluetooth 5.0, all audio devices can share data via Bluetooth Classic, and Bluetooth Low Energy is now more applicable for wearable devices, smart IoT devices, fitness monitoring equipment, and battery-powered accessories such as wireless keyboards.
BLE5 also includes a feature which makes it possible to recreate the sound on two connected devices (headphones, speakers, televisions, etc.) at the same time. Connected to a common "command centre", each device can independently choose its information transfer priority — greater transfer speed, or increased distance over which devices can interact.
Bluetooth 5 also allows for serial connections between devices. So for components of the IoT, each device can connect to a neighbouring element, rather than having to seek out a distant command centre. This has positive implications for the scaling of larger IoT deployments.
At the domestic level, Bluetooth mesh networking is playing a key role in automating the smart homes of tomorrow. Major home automation platforms such as Alibaba and Xiaomi are developing Bluetooth mesh networks to meet a growing demand for device networks in the home.
Mesh networking is also providing a foundation for commercial lighting control systems supported by innovators like Osram, Murata, Zumtobel, and Delta Electronics. These systems employ Bluetooth mesh networking to create large-scale device networks that can act as the central nervous system of a building. Applications span the retail, tourism, and enterprise sectors, and can even help organisations establish a platform that enables advanced building services, such as asset tracking.
At the consumer level, Bluetooth LE Audio under BLE5 now has enhanced performance, which has enabled support for hearing aids, and introduced Audio Sharing. This platform enhancement enables the transmission of multiple, independent, synchronised audio streams, providing a standardised approach for developers to build high-quality, and truly wireless ear buds. And the new Broadcast Audio feature enables a source device to broadcast an audio stream to an unlimited number of audio sink devices, opening up new opportunities for innovation.
So the evolution of Bluetooth from BLE4 to BLE5 sees performance improvements that go beyond increased data rates, wider range, and more broadcast capacity. And applications for now and the future may include IoT, smartphones, Bluetooth beacons, and numerous other devices.