With less hassle in getting everyday tasks done, improved efficiency, and the lure of reduced energy costs, home automation has much to recommend it. Yet with the growing popularity of smart homes and the resulting expansion of the Internet of Things or IoT that supports it, there has also come a proliferation of systems for managing gadgets in the home, and app after app for managing those systems.
A Growing App Ecosystem
The domestic services made possible through smart technology go beyond simple energy consumption and household management, to include a range of applications from assisted living, through security and remote monitoring, to the control and management of home appliances and devices.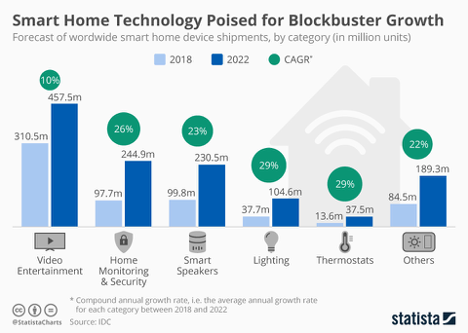 Globally, revenue in the smart home market currently amounts to US$84,637 million, according to Statista.com. This figure is expected to show a compound annual growth rate (CAGR ) of 18.2% in the next three years, resulting in a market volume of US$139,808 million by 2023. According to research by PreciseSecurity.com, global smart home market revenue is expected to reach a value of $158 billion in the next four years.
Smart appliances generate the most significant share of the overall market income. Global consumers are expected to spend $21.5 billion this year on devices which they can connect to smartphones or tablets for better control, convenience, and information. This market segment is expected to increase to $39.6 billion by 2024.
Germany and the UK are both predicted to produce smart home incomes of around $4.8 billion this year. Sellhousefast.uk surveyed 1,462 UK households to discover the smart home products they intend to own in 2020, and found that a smart thermostat (71%) and a smart doorbell (66%) are the products that UK buyers most expect to own this year.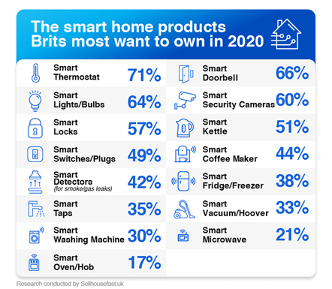 Market analysis by eMarketer suggests that Amazon, Google, Apple, and Samsung have created some of the largest IoT and smart-home platforms in the West, while Baidu, Alibaba and Xiaomi are among the top providers in China. Hardware manufacturers, security and telecommunications providers, utilities, software firms, and startups are others in the space also jockeying for position.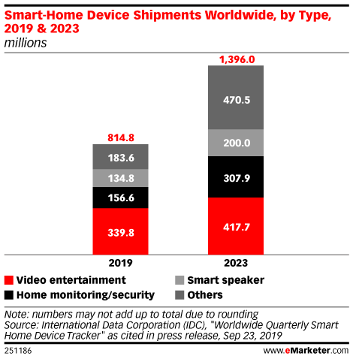 Home Automation — Or A Confusion Of Options?
Though the apps and interfaces used in governing these various smart technologies may share some common ground, different manufacturers may favour different app and UI designs, different types of network media, and different communications protocols.
The problem of interoperability between smart home systems vexes both consumer electronics dealers and customers, alike. While connected devices from a single vendor will work fine with each other, interoperability between vendors can become problematic — especially if the vendors don't use similar technology, or employ a shared protocol standard. An example would be the popular Lutron Caseta, which is sold at large home improvement chains and uses a proprietary wireless communication that is similar — but not identical — to the competing Zigbee and Z-Wave standards employed by other home automation vendors such as GE, Jasco, and Philips Hue.
If you mix home automation vendors in your household, there's a real danger that each one will end up confined to its own network and controlling app, making the issue of coordinating the various appliances and systems a real headache.
The main problem with buying several smart home devices from several different manufacturers is that you'll have to install and learn how to navigate several different apps, in order to use those devices properly. A better option would be to have a single screen that shows the status of all of your smart home devices, with a unified set of controls that enable you to make changes or adjustments across the board.
Unifying The Smart Home On A Single Platform
Providing interoperability for smart home appliances and systems can be achieved in two ways: implementing universal communications protocols, or having a central hub or gateway application that connects various components and acts as an interpreter between the different smart home devices or sub-networks.
Various attempts have already been made at creating a universal set of standards for communication protocols governing home automation devices. In 2000, three main European standards — ethe EIB (European Installation Bus), the EHS Protocol (European Home Systems) and BatiBus — were combined into a standardised communications protocol called KNX (Konnex), which currently has over 270 manufacturers from 33 countries amongst its membership. Other initiatives include communications protocols such as UPnP (Universal Plug and Play), the BACnet (Building Automation and Control Network), and the DLNA (Digital Living Network Alliance).
In essence, a central network hub or gateway should act as a home network router, capable of connecting multiple home computers, smart appliances, and peripheral devices (e.g., printers) to one another, and to the internet. Given the unpredictable nature of smart technology evolution, gateways must be able to continually search for, recognise, and adapt to, new devices added to a network. Platforms such as the Open Services Gateway Initiative (OSGi) and Jini are capable of adapting to the addition and removal of new devices, without requiring manual installation, upgrading or resetting.
Some Examples
For existing homes which already include a variety of automation systems and smart devices which were acquired over the course of time and from different manufacturers, more custom made solutions for integration may be required. Even with new purchases, it's necessary to first install the manufacturer's own brand of control software to set up the device and get it running, before dealing with the configuration of a hub or any single app home automation software.
So for example, with Google Home, you would need to open the Home app, tap the add button, click "Set Up Device," and then the "Works with Google" option. From the displayed list of manufacturers, you then have to find the right one and follow the steps of the linking process.
Similarly with Alexa, you must first open the Alexa app, tap the hamburger menu at the top left of the screen, and then choose "Add Device." The displayed headings ( "Light", "Plug", etc.) give options for the category of smart device. Having chosen, you then have to select the device manufacturer and follow the prompts to link your accounts.
For Apple based systems, compatible devices can be governed via HomeKit and the Home app. Tapping "Add Accessory" enables you to use the camera on your iPhone or iPad to scan the QR code on the smart device's box. You can then follow the prompts to name the device and add it to a particular room.
Especially valuable in a home automation context is the ability to automate a group of tasks that you habitually perform in sequence, by setting up routines or scenes — pre-programmed actions that the system performs on your behalf (e.g., locking all the doors before turning off the lights at bedtime).
If you're unsure how to use a smart hub to link different devices or set up your routines, you can check the manufacturer's web site for specific instructions. Note also that, even if you do use a single app for coordinating your home automation, it's wise to retain the original apps that came with each device, as this software is often necessary for enabling updates and security patches.
Final Thoughts
As the home automation market continues to expand and the roll out of new 5G technologies fuels smart home evolution, adoption is set to grow steadily in the coming years. Along with recent IoT investments by Google, Apple, Amazon, and Alibaba, the market is consolidating, with more and more products becoming cross-compatible.
So in answer to the question "Do we want yet another app for home automation?" the likely response for the foreseeable future is "Not really, so long as a central network hub or single app controller is available."