The first robot entered the workplace in 1959, at an automotive die casting plant in Trenton New Jersey. Since then, many other industries such as electrical/electronics, rubber and plastics, pharma, cosmetics, food and beverage, and the metal and machinery industry have accelerated their adoption of robotic automation. By 2017, there were over two million operational robots across the world, with the number projected to almost double to 3.8 million units by 2021. Today, global robot density (number of robot units per 10,000 employees) in manufacturing industries stands at 74, up from 66 units in 2015.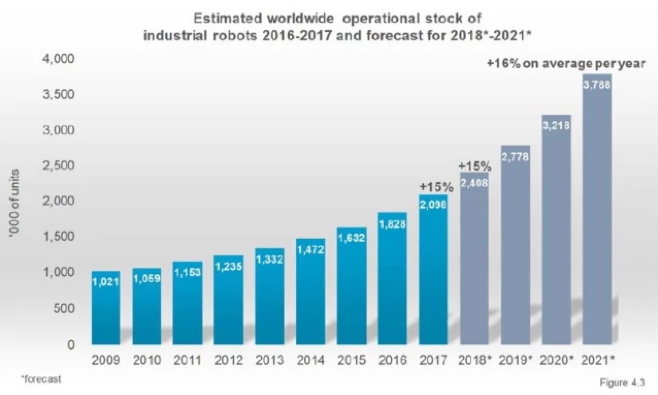 The Economic Impact of Robots
A June 2019 How Robots Change The World report from Oxford Economics estimates that a 1% increase in stock of robots could boost output per worker by 0.1% across the entire workforce. The study also projects a 5.3% increase in global GDP, equivalent to about $5 trillion, if robot installations were increased 30% above the baseline forecasts for 2030.
There have been several studies over the years that have established the superlative impact of robotic automation on productivity, competitiveness and economic growth. There are also studied arguments about how robotic automation enables businesses to reshore jobs, increases demand for higher-skilled workers, addresses rising labor scarcity, and creates new job opportunities that do not even exist today.
The Social Impact of Robots
But all that opportunity is not without its challenges. For instance, the Oxford Economics study found that, on average, each newly installed robot displaces 1.6 manufacturing workers. This means that up to 20 million manufacturing jobs could be at risk of displacement by 2030.
It is also necessary to acknowledge that robots are no longer a purely manufacturing phenomenon. Though the automotive sector pioneered and continues to pursue the deployment of robots, today, many other manufacturing sectors, including electrical/electronics, rubber and plastics, pharmaceutical and cosmetics, food and beverage, metal and machinery etc., are investing heavily in robotic automation. And the same is true outside of manufacturing, with retail and ecommerce, sales and marketing, customer service, IT and cybersecurity, and many more sectors and segments besides all deploying robotic automation and artificial intelligence (AI) software to enhance business intelligence and customer experiences. The market for professional services robots is also expected to grow at an average rate of 20-25% between 2018 and 2020. The entire field of robotics is advancing much faster today thanks to falling sensor prices, open source development, rapid prototyping and digital era constructs such as Robotics-as-a-Service and AI.
The Long and the Short of It Is…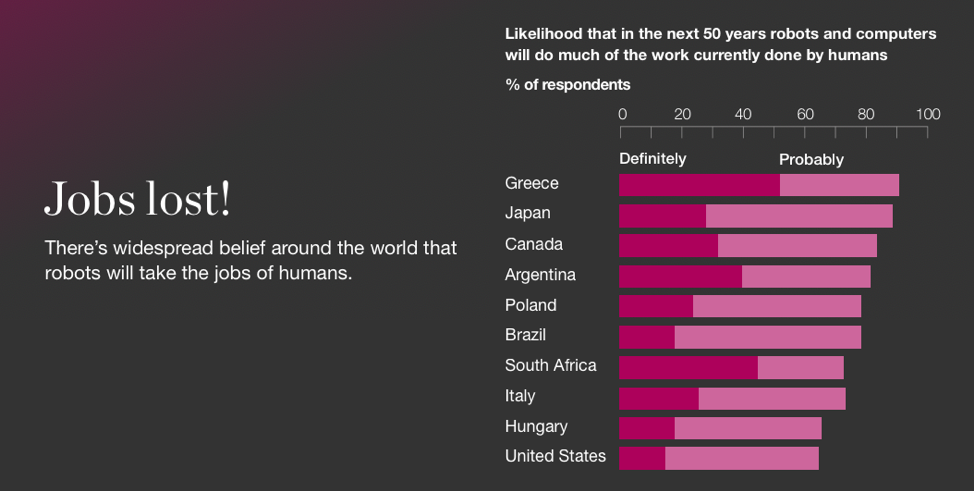 … The robots are coming in practically every industry. But should we really all be fearful for our jobs? It is indeed the widely-held view. According to McKinsey, there's widespread belief around the world that robots and computers will do much of the work currently done by humans in the next 50 years.
Research from the World Economic Forum (WEF) agrees that millions of jobs are likely to be displaced by automation, but we have less to fear from robots than many seem to think – at least in the short term. Though the Swiss think tank predicts that robots will displace 75 million jobs globally by 2022, 133 million new ones will be created – a net positive.
The report notes four specific technological advances as the key drivers of change over the coming years. These are: ubiquitous high-speed mobile internet, artificial intelligence, widespread adoption of big data analytics, and cloud technology. "By 2022, according to the stated investment intentions of companies surveyed for this report, 85% of respondents are likely or very likely to have expanded their adoption of user and entity big data analytics," write the report's authors. "Similarly, large proportions of companies are likely or very likely to have expanded their adoption of technologies such as the Internet of Things and app- and web- enabled markets, and to make extensive use of cloud computing. Machine learning and augmented and virtual reality are poised to likewise receive considerable business investment."
The Reskilling Revolution
WEF finds that nearly 50% of companies expect that automation will lead to some reduction in their full-time workforce by 2022, based on the job profiles of their employee base today. However, nearly a quarter expect automation to lead to the creation of new roles in the enterprise, and 38% of the businesses surveyed expect to extend their workforce to new productivity-enhancing roles. And this, indeed, is key to the robotic revolution and why so many companies are committed to investing in new technologies in the first place – because robotics, automation, machine learning, cloud computing, and big data analytics can enhance the productivity of the current workforce in the new digital economy and improve business performance.
In industries like manufacturing, these technologies provide seamless connections across production and distribution chains, streamlining the process of getting products from the assembly line into the hands of the customer. But it's not just manufacturing – everything from healthcare to retail will benefit from these emerging and maturing technologies. And it's not necessarily the case that robots and algorithms will replace the current workforce, either – rather, WEF says, they will "vastly improve" the productivity of existing jobs and lead to many new ones in the coming years.
In the near future, it is expected that workers will be doing less physical work (as more and more of it is handled by robots), but also less information collecting and data processing (as these, too, will be automated), freeing up workers for new tasks. Though there will be more automatic real-time data feeds and data monitoring that won't require workers to enter and analyze it, there will also be more work on the other end of spectrum, where real humans spend time making decisions based on the data collected, managing others, and applying expertise. Indeed, automation is more likely to augment the human workforce than replace it.
The ability to digitize information and data is stimulating complete redesigns of end-to-end processes, customer experience strategies, and creating more efficient operations. Data analytics, indeed, is a key part of realizing the potential of all next generation technology – including robotics and automation – to enable better real-time reaction to trends and what customers want.
Though there will inevitably be a decline in some roles as certain tasks within them become automated or redundant, in their place emerges a demand for new roles – though this does mean that the existing workforce will need to be retrained to update their skills. WEF says that among the range of roles that are set to experience increasing demand are software and applications developers, data analysts and scientists, and ecommerce and social media specialists – roles, the authors say, that are significantly based on and enhanced by the use of technology. Also expected to grow are roles that leverage distinctively "human" skills – those in customer service, sales and marketing, training and development, people and culture, organizational development, and innovation management. There will also be accelerating demand for wholly new specialist roles related to understanding and leveraging the latest emerging technologies – AI and machine learning specialists, big data specialists, process automation experts, security analysts, user experience and human-machine interaction designers, and robotics engineers.
In short, the robotics revolution will spur a reskilling revolution – and businesses already seem to be on board with this idea. 66% of respondents in a McKinsey study assigned top-ten priority to addressing automation/digitization-related skill gaps.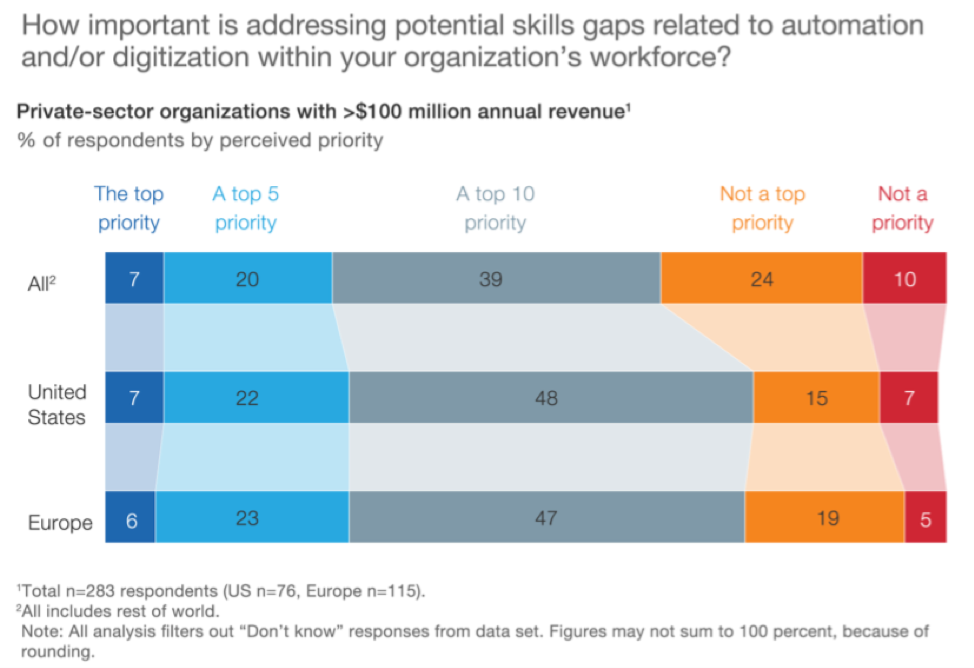 Final Thoughts
As we head towards 2020, robotics, automation and related technologies are becoming a prerequisite for any company that wishes to remain competitive. Businesses large and small are embracing automation technologies – from fully-fledged assembly line robots to customized call center chatbots – to help simplify business processes, improve productivity and deliver better customer experiences at scale. This trend is only going to accelerate in the future, and though the rise of the robots may be a cause of concern for many in the labor market, the reality is that organizations won't be able to solve all of their problems with automation alone. Rather, the robots are coming to augment the human workforce, not replace it. Job roles may change, and new skills may be required, but unless companies of all sizes start automating their processes, they will soon find themselves gobbled up by those that do.
Vinnter serves as an enabler for developing new business and service strategies for traditional industries, as well as fresh start-ups. We help companies stay competitive through embedded software development, communications and connectivity, hardware design, cloud services and IoT platforms. Our skilled and experienced teams of developers, engineers and business consultants will help you redefine your organization for the digital age, and create new connected products and digital services that meet the evolving demands of your customers. Get in touch to find out more.