"No one asked for smartness, for the smart home." That's the head of Google's smart home products explaining the company's decision to focus on delivering a helpful home that provides actual benefits rather than a smart home that showcases technology. This is key; the next generation connected home must provide convenience and actual benefit.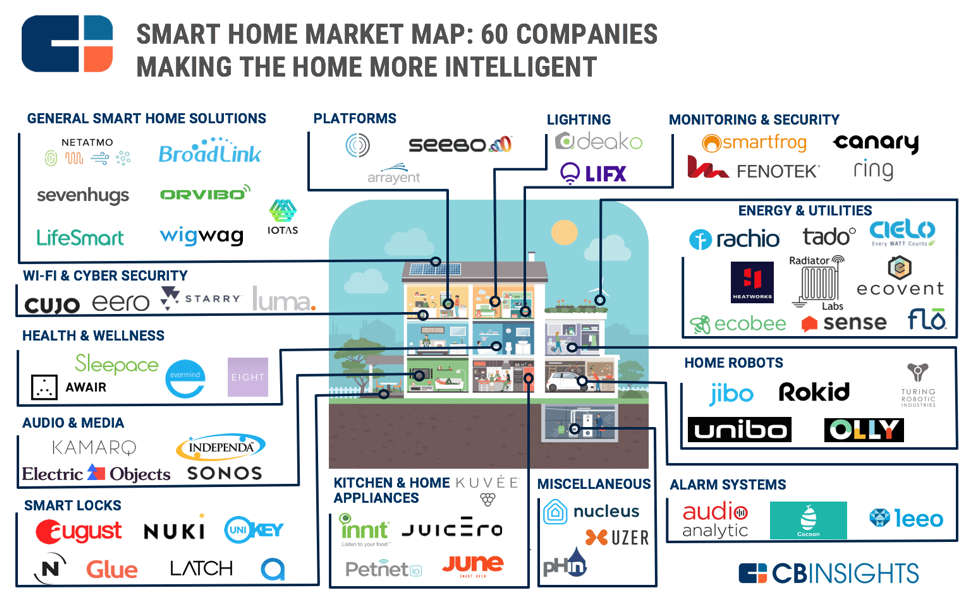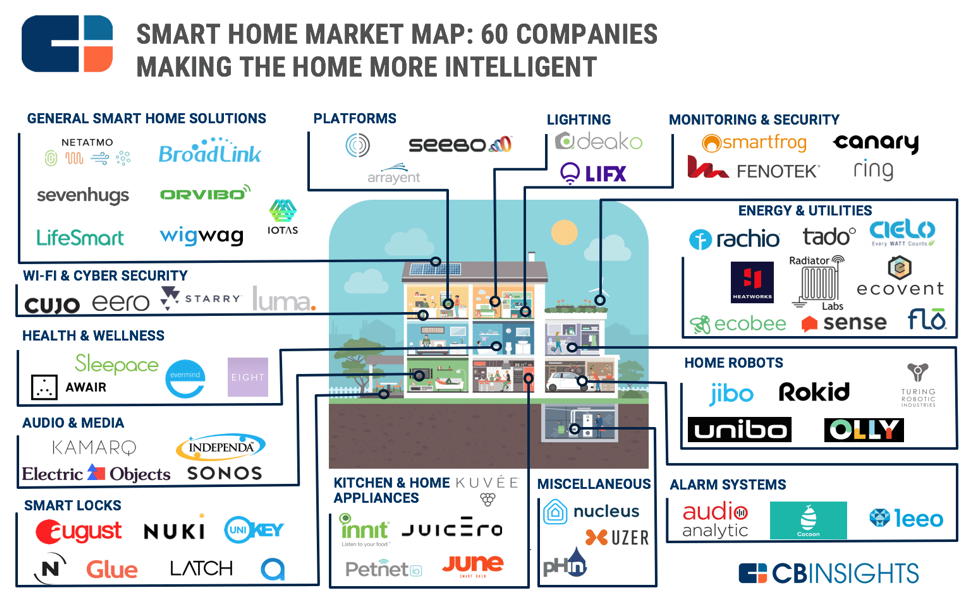 Smart home, helpful home, what's in a name when the industry is growing at a CAGR of almost 15% and is expected to more than double in value, from USD 24.10 billion in 2016 to USD 53.45 billion in 2022. Growing acceptance of connected home devices powered global shipments to over 168 million in the first quarter of 2019, up 37.3% from the previous year. IDC estimates that shipments will continue to grow at almost a 15% CAGR, from 840.7 million units in end 2019 to 1.46 billion units by 2023.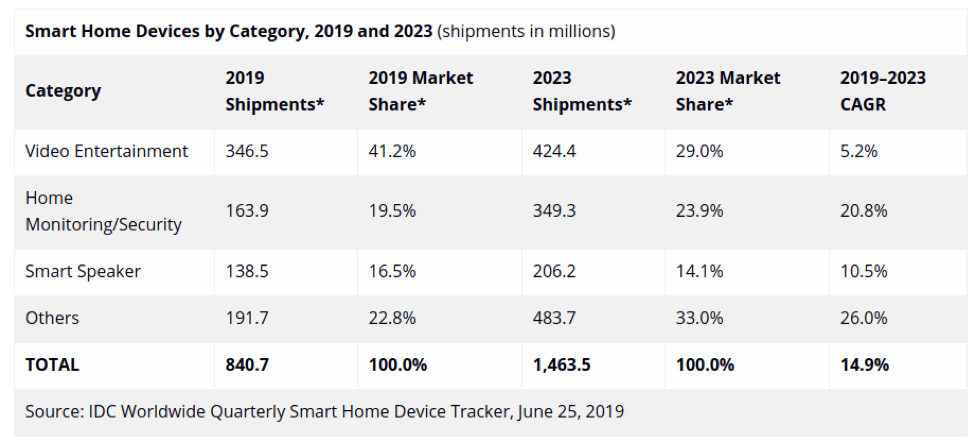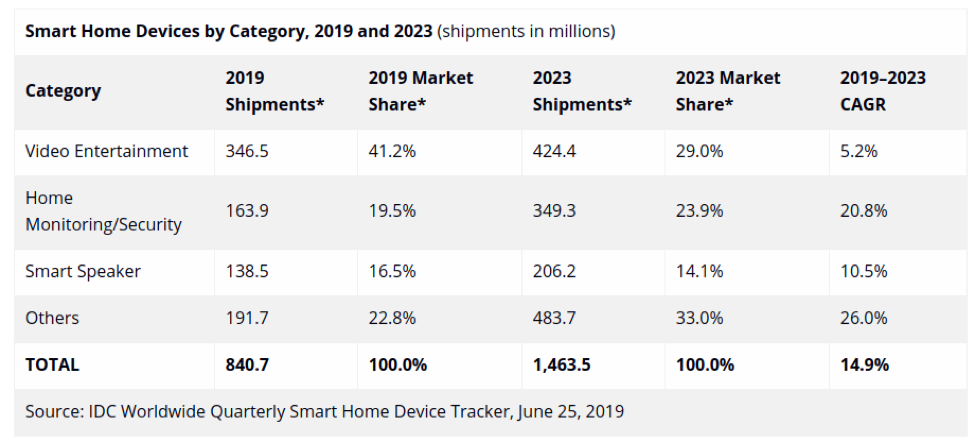 There are a lot of factors fueling the increasing acceptance of connected home devices. A majority of consumers expect their next home to be connected and are willing to pay more for a helpful home. Though this trend may be spearheaded by digital-savvy millennials and their penchant for tech innovations, the convenience afforded by these smart solutions is drawing in the older generations as well. Fairly recent innovations like voice-enabled interfaces are simplifying the adoption process for a larger proportion of consumers. At the same time, increasing competition and falling device prices, rising interest in green homes and sustainable living, have all, to varying degrees, helped convert consumer interest into action.
But of course, there has to be underlying value to all these trends and preferences.
Key value drivers in smart home systems
There are broadly three layers of value in a smart home system. The first is the convenience of anytime-anywhere accessibility and control, where consumers can change the state of their devices, such as lock door, turn off lights, etc., even remotely, through a simple voice or app interface.
The second layer enables consumers to monitor and manage the performance of these systems based on the data they generate. For instance, consumers can manage their energy consumption based on the smart meter data or create a fine-grained zone-based temperature control using smart thermostats to control costs.
The final layer is automation, which is the logic layer that enables consumers to fine tune and automate the entire system based on their individual needs and preferences.
Till date, there have been some empirical quantifications of value in terms of how a lot of smart homeowners in the US save 30 minutes a day and $1,180 every year or how smart thermostats can cut temperature control costs by 20%. However, it is possible, at least theoretically, to link adoption to value as smart home segments such as energy and security management with, tangible value propositions of cost savings and safety, have traditionally experienced higher rates of adoption.
But as the smart home markets evolves beyond the hype and adoption cycle, the dynamics of value are changing. And Google's pivot from smart to helpful reflects this shift in the connected home market. It is no longer about the technology but about the value it can deliver.
The future value of smart home technologies
Customers get smart home tech. Most consumers in the US, a key market for this emerging technology, most people already use at least on smart home device. According to one report, US broadband households now own more than 10 connected devices with purchase intention only getting stronger through the years. The global average for smart home devices per household is forecast to be 16.53, up from the current 5.35.
Along with device density, consumer expectations of the technology are also rising. Almost 80% of consumers in a global study expect a seamless, personalized and unified experience where their house, car, phone and more all talk to each other. They expect emerging technologies like AI to enhance their connected experience. And they expect all this to be delivered without compromising privacy or security.
There is a similar shift on the supply side of the market too.
If the emphasis thus far was on getting products into consumers' homes, the future will be about creating a cohesive experience across all these devices. In this future, services, rather than devices, will determine the value of an IoT vendor. With device margins fading away, the leaders will be determined by their ability to leverage the power of smart home device data to deliver services that represent real value for consumers.
So a seamless cohesive cross-device experience is what consumers expect and is also what will drive revenue for smart home solution providers. And the first step towards realizing this future will be to address the systemic issue of interoperability in smart homes.
Interoperability in smart home technologies
Interoperability over brand loyalty, that seems to be the consumer stance according to a report from market research and consulting firm Parks Associates. When it comes it purchasing new devices, more people prioritize interoperability with their current smart home set up over matching brands to their existing products.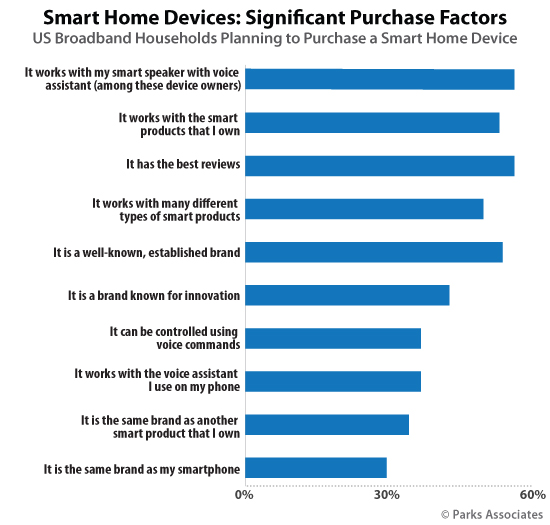 The true smart home is not a loosely connected set of point solutions. It is an integrated ecosystem of smart devices that delivers a seamless and cohesive smart home experience.
For smart home vendors, interoperability creates the data foundation on which to build and monetize new solutions and services that add value to the consumer experience. Ninety seven percent of respondents to a 2018 online survey of decision-makers in the smart home industry believed that shared data and communication standards would benefit their business. These benefits ranged from the ability to create new solution categories (54%), capture and correlate across richer data sets (43%), focus on core strengths rather than grappling with integration issues (44%) and accelerate adoption (48%).
There are two fallouts from the limited interoperability standards in the smart home market today. The first is the integration challenges it creates for consumers trying to create a cohesive ecosystem out of an extensive choice set of solutions fragmented by different standards and protocols.
There are a few ways in which consumers can address this challenge. The rapid rise of smart speakers, the fastest-growing consumer technology in recent times, and voice-enabled interfaces has helped streamline the adoption and simplified integration to a certain degree. The next option is to invest in a dedicated smart home hub, like Insteon Hub and Samsung SmartThings Hub, that ties together and translates various protocol communications from smart home devices. Many of these hubs can now be controlled using Amazon Alexa and Google Assistant voice controls. Universal Control Apps such as IFTTT and Yonomi also enable users to link their devices and define simple rule-based actions with the caveat that they have been integrated by device manufacturers. Many device vendors have also launched "works with" programs to expand compatibility and enable consumers to create a more or less unified smart home solution.
Though each of these approaches have their merit, collectively they represent an approach to mitigate the symptoms of fragmentation rather than enforce interoperability by design. A shared standard would go a long in addressing the challenges of the current approach to enabling organic interoperability in smart homes.
OCF and open source, open standard interoperability
OCF (Open Connectivity Foundation) is an industry consortium dedicated to ensuring secure interoperability for consumers and IoT businesses. Its members include tech giants such as Microsoft, Cisco, Intel and appliance majors such as Samsung, LG, Electrolux and Haier.
For businesses, OCF provides open standard specifications, code and a certification program to enable manufacturers to bring OCF Certified products with broad scale interoperability across operating systems, platforms, transports and vendors. The Foundation's 1.0 was ratified last year and will soon be published as an ISO/IEC standard. OCF also provides two open source implementations — IoTivity and IoTivity Lite — for manufacturers looking to adopt the ratified standard and maximize interoperability without having to develop for different standards and devices.
OCF's latest 2.0 specification introduces several new features including device-to-device connectivity over the cloud, something that was not possible in 1.0 The 2.0 specification will be submitted for ISO/IEC ratification later this year.
With key partners like Zigbee its now worldwide recognized specification, OCF continues to advance in developing a truly open IoT protocol, equipping developers and manufacturers in the IoT ecosystem with the tools they need to provide a secure, interoperable end user experience.
OCF works with key partners, such as Zigbee, Wi-Fi Alliance, World Wide Web Consortium (W3C), Thread, and Personal Connected Health Alliance (PCHAlliance), and with over 400 members from the industry to create standards that extend interoperability as an operating principle.
Interoperability, however, is often only the second biggest concern of smart home consumers. The first is security, relating to hacked or hijacked connected home systems, and privacy, relating to how consumer data is collected, utilized and despatched.
Security & privacy in smart homes
In July this year, there were news reports about a massive smart home breach that exposed two billion consumer records. This was not the result of any sophisticated or coordinated attack and more the consequence of one misconfigured Internet-facing database without a password. It was a similar situation with Mirai attack of 2016 where consumer IoT devices such as home routers, air-quality monitors and personal surveillance cameras were hijacked to launch one of the biggest DDoS attacks ever. Then too, there was no sophistication involved. The attackers simply used 60 commonly used default device credentials to infect over 600,000 devices.
IoT, including consumer IoT, offers some unique challenges when it comes to security. But the security mindset has yet to catch up with the immensity of the challenge.
It's a similar situation when it comes to privacy. Globally, most consumers find the data collection process creepy, do not trust companies to handle and protect their personal information responsibly and are significantly concerned about the way personal data is used without their permission.
The situation may just be set to change as the first standards for consumer IoT security start to roll in.
Earlier this year, ETSI, a European standards organization, released a globally applicable standard for Consumer IoT security that defines a security baseline for internet-connected consumer products and provide a basis for future IoT certification schemes. The new standard specifies several high-level provisions that include a pointed rejection of default passwords. The ETSI specification also mandates a vulnerability disclosure policy that would allow security researchers and others to report security issues.
Security is an issue of consumer trust, not of compliance. The smart home industry has to take the lead on ensuring the security of connected homes by adopting a "secure by design" principle.
Emerging opportunities in smart homes
As mentioned earlier, consumers really expect their smart home experience to flow through to their outdoor routines, their automobiles and their entire daily schedules. Smart home devices will be expected to take on more complex consumer workloads, like health applications for instance, and AI will play a significant role in making this happen. AI will also open up the next generation of automation possibilities for consumers and play a central role in ensuring the security of smart home networks.
Data will play a central role in delivering a unified, personalized and whole-home IoT experience for consumers. Companies with the capability to take cross-device data and convert it into insight and monetizable services will be able to open up new revenue opportunities. However, these emerging data-led opportunities will come with additional scrutiny on a company's data privacy and security credentials.